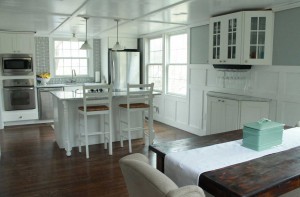 Which room do you use the most in your home? It probably won't take you long to realize that it's the kitchen. In every household across Toronto the kitchen is the central hub that connects everything. It's a meeting place in the home as well as being a place of work. It's probably not that surprising it's so popular, after all we do need to eat. If you believe it's time that yours was "redone," maybe due to it being in poor condition or because it no longer fulfils your needs, we are the company to call. As a team of fully licensed custom building contractors, Karen Homes has completed hundreds of kitchen renovation projects across Toronto since we began operating, with much of our work coming through word of mouth referrals.
Your Toronto Kitchen Renovation and Remodeling Experts are here to help
As homeowners ourselves, we are only too familiar with the problem of not knowing where to allocate your home improvement budget when money becomes available. There are so many home improvements that can be done, but not many can match the range of benefits offered by kitchen renovations.
Make Your Kitchen More Space Efficient – Many times, when we are contracted to work on kitchen renovations, during the initial onsite consultation we find that there is tons of existing space being wasted. Rather than having to add additional space to your kitchen area by knocking out walls, we can simply tap into that wasted space and use it more efficiently, meaning you can get more done in the same amount of space.
Make Sure It Meets Your Needs – If your existing kitchen was already there when you moved in, there are most probably one or two aspects of its design that you don't particularly like. Kitchen renovations are a great way to correct this and have a customized layout implemented that takes your requirements and preferences into account.
Bring Order to Your Kitchen – There are so many items stored in the kitchen area that it is easy for it to become cluttered if everything is not allocated its own space. If you decide to have your kitchen renovated, we can incorporate space efficient storage solutions to ensure everything is packed away neatly when not in use.
Adds Value to You Home – It's an undeniable fact that a new kitchen will increase your home's value significantly, since it will not only improve aesthetics but it will also increase functionality; both positive factors in the eyes of any potential buyer. This is an added bonus if you decide to sell up and move on in the next few years.
Designed to Your Tastes – Kitchen renovations provide you with the opportunity to put your own stamp on your property. If you've renovated other areas of your home recently, the kitchen's design may "stick out" now and detract from your home's overall appearance. By selecting the materials, colours and textures you like, you can help to unify your kitchen area with surrounding rooms.
Karen Homes and Kitchen Renovations
If you've been considering hiring a kitchen renovation expert for a while and you've carried out a significant amount of research, you're probably well aware that there are hundreds of contractors offering these services in Toronto, so why should you choose Karen Homes?
Established Reputation – We are not a "fly-by-night" operation; we have over 15 years of industry experience, have completed hundreds of kitchen renovations, have a full portfolio we can show you and countless references that will vouch for the quality of our work.
Consummate Professionals – We never take anything for granted or make assumptions; our team is extremely thorough in all phases of a kitchen renovation, not progressing from the planning and design stage until you are completely happy with what has been proposed.
Genuine Passion – While it is somewhat of a rarity these days, our team has a genuine passion for the work we do and works closely with all clients, which has allowed us to complete kitchen renovations to an extremely high standard ever since we began offering our services.
Competitive Rates – Our goal is to accommodate any budget that we are provided with, offering the highest quality renovation for the money you have available. A written quote is always provided to give you peace of mind once our team starts work.
Been reading a lot about kitchen renovations lately? For advice from one of the leading firms in Toronto or to arrange a free onsite consultation, call Karen Homes on 416-661-6006 today.