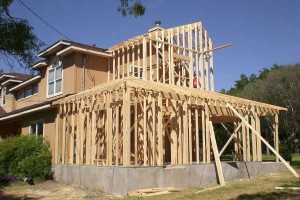 Maximizing the space you have available in your home is a "hot" topic nowadays, particularly in inner city areas where living space is at a premium anyway, but sometimes you get to the point where you just can't stretch it any more. This is a problem that is commonly experienced by growing families. What is the answer when your current living space just isn't big enough? Basement renovations are a common suggestion, but if that's not an option in your case, a home addition might be the best solution. Due to our commitment to producing work of an exceptional standard and making sure our clients are satisfied with the end results they receive, Karen Homes has become the go-to contractor for home additions in Toronto over the course of the last 15 years.
The Benefits that Home Additions Offer
Karen Homes is qualified to design and construct high quality home additions, but we can't make the decision for you. Some of the main advantages to home additions include:
No Need to Move – Moving home can be a very stressful experience, especially if you have young children, and for these reasons it's something our clients typically want to avoid doing. Home moves can also be terribly expensive and more to the point, why would you want to move if you already have your dream home? Home additions simply add the final ingredient; more space.
Customized Solution – Another reason to opt for home additions over alternative solutions, is that the additional space you will gain will be completely customized. This means it is designed with your needs, preferences and particular tastes in mind. As we just said, why spend months traipsing across the whole of Toronto looking for your ideal property, when we can simply expand the one you already have in a matter of weeks?
Makes Financial Sense – In the vast majority of cases it works out cheaper to have a home addition added to an existing property than it does to move to a completely new (and bigger) property altogether. Additionally, home additions actually significantly increase the value of your home, meaning if you did decide to move in the future, you would most probably be able to sell for more.
Additional Space – This is the most obvious benefit of home additions and the number one reason you should have one added to your property. Right now you may be living in cramped conditions, but a home addition can change all that and provide you with all the extra space that you require.
Karen Homes: The Leading Custom Home Building Contractors in Toronto
Home additions are not something you can attempt on your own; you will need the assistance of a professional building contractor. Here's why you should use the services we offer:
Established Process – Karen Homes has been designing and constructing home additions for many years, and after refining our process many times in this period, we are able to deliver exactly what you are looking for with the minimum of fuss.
Onsite Consultation – Key to that process is the onsite consultation that we complete at the start of every single project we work on. This allows us to inspect the installation site, listen to your requirements and provide feedback as necessary, as well as establish a positive working relationship from the outset.
Outstanding Design Team – While we are a construction team at heart, our design team is up there with the very best and can assist you to design a space that not only meets your needs from a practical perspective, but that is aesthetically pleasing and complements the rest of your home too.
Fully Insured – You have to be very careful nowadays as many contractors will offer you lower rates to cover up the fact that they don't have insurance. This isn't an issue you need to worry about when working with Karen Homes though, since we have up-to-date general liability insurance and workers' compensation insurance.
Favorable Quotes – The home additions that we construct are not only made to exacting standards, but they represent great value for money too.
If you are interested in having a home addition constructed at your property, the next step is to give us a call on 416-661-6006 to arrange a free initial consultation.