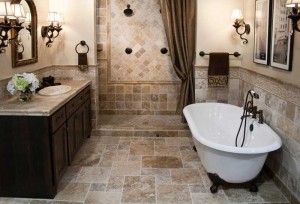 Your home is probably the biggest investment you will make in your life and it's essential that it is kept in good condition, and that all parts of it are safe and able to meet your requirements on a day to day basis. Over the last 15 years, Karen Homes has been helping homeowners across the Toronto area achieve all of those things and more, and in the process has become the leading custom home building and renovation contractor in the area. From basement renovations to home additions, we do it all, but perhaps one of the most important types of projects that we complete for our clients are bathroom renovations.
The Bathroom: One of the Most Important Rooms in Any Property
Other than the kitchen, the bathroom is the most used room in virtually any property. The average person spends the equivalent of 6 days in the bathroom every single year, and as we are sure you would agree, it simply wouldn't be possible to meet your personal needs without the facilities that are offered in the bathroom area. This is further highlighted by home buyers, as a modern, hygienic bathroom that is aesthetically pleasing and functional is one of main features they look for when going on home viewings.
Why Bathroom Renovations Are Such a Popular Home Improvement
Bathroom renovations aren't just about updating the image of your bathroom; the design can be made more convenient and efficient, and performance can be improved. Some of the main reasons bathroom renovations are one of the most popular home improvement projects include:
Maximizes Available Space – There's a good chance that your current bathroom design doesn't use the space you have very well. Bathroom renovations can resolve this problem by changing the layout and adding new feature that save you space. Your bathroom is often not as small as you think it is; you don't have to put up with a cluttered environment!
Improves Your Home's Appearance – It's a common known fact that most people judge a property by the condition of its bathrooms. If your bathrooms leave a lot to be desired, you have no chance of making a positive impression. A bathroom renovation ensures you won't have to try and hide these areas from guests; they will be spaces you will want to show off.
Ensure Your Safety – Many of the accidental trips and slips that occur in homes across Toronto, occur in the bathroom. Why? The presence of water. After having a shower or a bath, surfaces can become moist and should you have loose tiles, this is a disaster just waiting to happen. Bathroom renovations ensure that your bathroom area is completely safe for you and your guests to use. Bathroom renovations will also rectify any problems you are experiencing with mold or mildew.
Boosts Property Value – As already mentioned, bathrooms are a "make it or break it" feature and can increase the value of your home by a significant amount. If you did decide to sell your property in the future, this ensures you will get a good return on your investment, increasing the amount you can afford to spend on your new place.
Signs that You Need a Bathroom Renovation
Many homeowners that we've talked to about bathroom renovations in the past have struggled to determine whether they should remodel or not. We would recommend you get in touch with our team if:
Things Start Going Wrong – If many of the fixtures and fittings in your bathroom are now ancient and they start to "give in" one at a time, either ceasing to function (in the case of a toilet, a shower or a faucet) or no longer appearing visually attractive (are your white walls now yellow?), it is time for a renovation.
Selling Up? – If you've made the decision to sell and your bathroom hasn't received any "TLC" for a number of years, it's time to think how you could improve its appearance and functioning. Bathroom renovations get results!
Your Needs Have Changed – If your bathroom is not longer able to meet the needs of those that reside in your property (maybe you are no longer as mobile as you once were), its design needs to be adapted to those needs.
You Just Don't Like It – Just as our needs change, so do our tastes. While your current design may have "done" it for you 10 or 15 years ago, if it's no longer to your taste, we can help give it a makeover.
Call us today on 416-661-6006 to discuss your requirements and to receive further information about the services we offer.