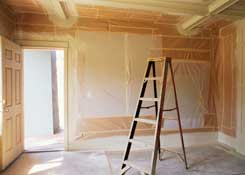 If you are considering having your basement renovated, you are not alone. Thousands of Canadians across Toronto and the rest of Ontario decide to invest their hard earned money into basement renovations every single year, as not only does this type of project offer any homeowner a whole range of practical benefits, but as seen in Remodeling Magazine's annual Cost Vs. Value report, it also offers an exceptionally high return on investment too. Over the last 15 years we have become one of the leading custom home building and renovation experts in the area, offering innovative design solutions, high quality workmanship and an exceptional standard of customer service.
Why Basement Renovations in Toronto are One of the Best Home Improvements
As with many other home improvement projects that you can have carried out, basement renovations do represent a significant commitment, but here's why it's a commitment that is definitely worth making:
Value for Money – Basement renovations represent real value for money and in most cases are the cheapest way of adding usable living space to your property. Home additions are usually the alternative if you're in desperate need of more space, but they are far more expensive, far more complicated and may decrease the amount of outdoor space that you currently have.
Return on Investment – With some home improvements, while the investment you make does improve your quality of life, you lose that money forever since it does very little to increase your property's value. Basement renovations on the other hand recoup 77.6 percent of the amount you invest on average, significantly increasing the resale price (and resale potential) of your home.
Extra Space – If you have a growing family, maybe the current square footage of your property simply isn't big enough. Rather than being forced into moving home and potentially uprooting your children from everything that they know, utilize space that is currently unused in the basement.
Comfortable Conditions – Due to its position and superior level of insulation, the basement, once renovated, can become one of, if not the most comfortable rooms in your entire property. Basement renovations typically remain very warm during the cold winter months, yet remain extremely cool when the summer sun is beating down outside. This has the added benefit of helping you to keep firm control of your energy bills.
Versatile Area – Many of the rooms in your property, due to their prominent position, can only be used for a single purpose. But that's not the case with basement renovations, since they are nicely tucked out of the way, so should you have guests over, there doesn't have to be a mad scramble to ensure the room is looking "ship-shape." Many of our clients stated they planned to use their basement area for multiple purposes, including as an entertainment area, a place to work out and somewhere to relax after a long day at work.
Instant Earnings – Basement renovations can create self-contained apartments, which could potentially be rented out to provide you with an extra income source every month. You could use this extra money to offset all or a percentage of your mortgage payments.
Why Work With Karen Homes?
The benefits of basement renovations are undeniable, but they will only be achieved if the project is carefully planned and then expertly executed. Karen Homes has not become the premier building contractor in Toronto by chance; we have done so due to several of the core characteristics of our business, which include:
Expert Design Team – We don't do generic designs that you have to adapt to. After inspecting the space for ourselves and consulting you on your needs and preferences, we come up with a tailor-made solution.
High Quality Materials – It doesn't matter how good the workmanship is if the materials used are not up to scratch. We only ever use the best to ensure you will be able to enjoy your basement renovation for years to come.
Experienced Professionals – You could say we "know a thing or two" about basement renovations, having completed dozens of jobs over the last 15 years and establishing a reputation that our rivals are envious of.
Exceptional Customer Service – We never lose sight of the fact that you are the most important element of your project and work exceptionally hard to ensure your needs are catered for at all times.
If you are interested in working with Karen Homes on your basement renovation project, call us today at 416-661-6006 for further information.